Complete production solutions

On request we also offer complete production solutions from mould construction and production of raw parts to machining and processing the raw parts into the finished state.
Our complete production solutions include:

- consulting and planning,
- production of moulds for aluminium and plastic die casting,
- aluminium die casting,
- plastic die casting,
- processing of raw die casted parts (deburring, die cutting, milling, sand blasting, grinding, etc.),
- production of special purpose tools and machines for more complex processing,
- Product assembly services,
- Packaging and shipping of finished products.
Our company has been awarded with the AAA Platinum Creditworthiness Rating.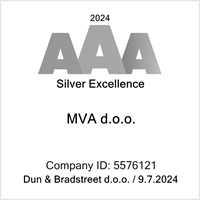 MVA d.o.o. celebrates 30 years of business!
30 years